Sterile Compounding
Our compounding pharmacy specializes in sterile compounding and is one of only a very few in Australia equipped with a certified state of the art ISO Class 7 sterile room and an adjacent ISO Class 8 ante room which are required for the production of sterile preparations. We have a certified GERMFREE ISO Class 5 sterile laminar flow Barrier Isolator which is located in the ISO 7 sterile room in which all sterile preparations are made. This set up exceeds the requirements set by USP 797. These ensure that we exceed the high standards required for sterile production so that products produced by are us are indeed sterile and safe to inject.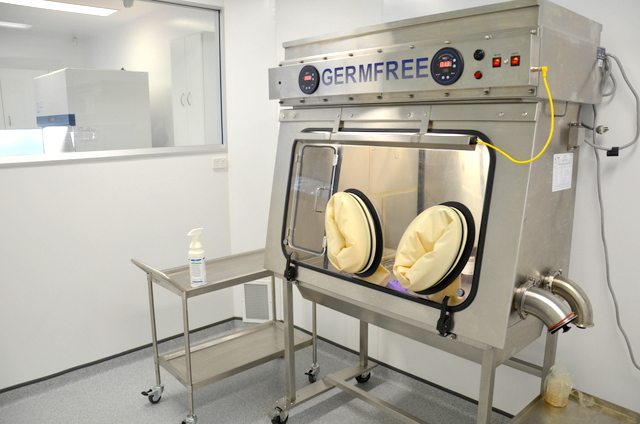 Our laboratory is equipped with a dry heat sterilization oven to sterilize and depyrogenate all glassware and utensils involved in the compounding process to prevent contamination of bacteria or pyrogens. We also use commercially available sterile and pyrogen free water for injections, vials and filters in all our sterile products to minimize any potential source of contamination.
We have a variety of methods for sterilization available including a dry heat oven, autoclave and various sterile 0.2 micron filters which enables us to sterilize a variety of products which all require different methods of sterilization. We also
Our Sterile rooms undergoes daily bacteriocidal cleaning to maintain a sterile environment. We also monitor the environment at intervals which exceed USP standards with weekly air sampling of the rooms and inside the sterile cabinet using a portable microbial sampler to ensure no bacteria are present. We also perform weekly glove finger dab plate tests in addition to weekly surface testing to ensure our sterile environment remains sterile. We also monitor non-viable airborne particals weekly to ensure we comply with USP standards.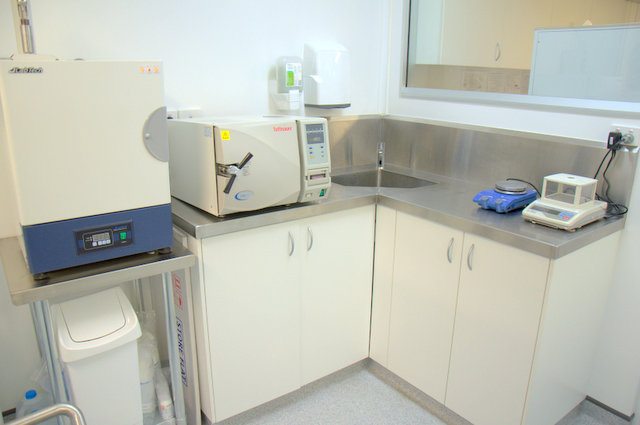 We perform our own in-house sterility testing which have been validated for various products. This involves incubating samples in various growth media in an incubator for 14 days to ensure the absence of any microbial growth. We also perform bubble point testing on our sterile filters to validate their integrity which ensures their ability to sterilize heat sensitive mixtures. We also perform endotoxin testing on our raw materials to eliminate all sources of potential contamination.
Dr Michael Serafin, our chief compounding pharmacist, has nearly 20 years experience in sterile compounding and prior to that has been involved in sterile work since the mid 1990's while completing his PhD at Sydney University. He is one of Australia's most experienced compounding pharmacists in sterile compounding.
Sterile preparations individually compounded by our laboratory and available with a valid doctors prescription include:
Erectile Dysfunction Injections – TRIMIX, BIMIX, QUADMIX and a range of other injections for the treatment of erectile dysfunction.
Nasal Sprays – HCG, oxytocin, glutathione, methylcobalamin, lidocaine
Eye Drops – NAC eye drops, hypertonic eye drops
Nutritional Injections – methylcobalamin, lipoic acid, pyridoxyl-5-phosphate, carnitine, phosphatidylcholine, dexpanthenol, etc. Refer to our Vitamin Therapy page for details.
Other – DMSO/lidocaine/heparin/hydrocortisone Bladder irrigations used in urology
– hormone pellet therapy – estradiol pellets
– Arginine injections for vets
Contact Us
In order to arrange to have any sterile compounding done for you please  contact us.