Hair loss or Baldness involves the loss of hair on the head. The most common form of baldness is a progressive hair thinning condition called androgenetic alopecia, commonly referred to as male pattern baldness (MPB) or female pattern baldness (FPB).
For many years, scientists thought that MPB was caused by the predominance of the male sex hormone, testosterone.  While testosterone is at the core of the balding process, it is now known that Dihydrotestosterone (DHT) a metabolite of testosterone, is the primary agent responsible for premature hair loss.
Causes of Hair Loss
Testosterone converts to DHT via the enzyme Type II 5-alpha reductase which is held in a hair follicle's oil glands.  The level of DHT binding to the receptors in the scalp hair follicles is of major concern in terms of the underlying cause of hair loss.  DHT reduces the growth phase of the hair follicle causing them to shrink. Simultaneously, the membrane in the scalp thickens, becoming inelastic and restricting blood circulation.  Eventually, the follicle atrophies to a point where hair growth is no longer possible.  The normal rest-grow cycle of the hair follicle is altered and follicles remain dormant for the majority of the time.  As a result, hairs fall out at the same rate, but are not replaced.  Eventually, all the hairs revert to the rest phase and a bald spot, or baldness results.
Other causes of hair loss include: Stress, Medications including some blood pressure, cholesterol, cancer, acne and birth control tablets; Hormone imbalances – low progesterone, low thyroid, high DHEA and testosterone; Fungal infections and Nutritional deficiencies such as Vit D and/or iron deficiencies.
Nutritional Recommendations for Hair Loss Available over the Counter

(1) Saw Palmetto Standardized Extract is an effective natural 5-alpha-reductase enzyme inhibitor. It prevents DHT production and thus may help overcome the underlying cause of hair loss. We recommend using 550mg a day of standardized extract.
This is available online once you have logged into the members section of our website
(2) A research team in the US formulated, tested and patented an oral complex of nutrients that essentially have the same effect on potassium channels and hair growth as oral minoxidil without side effects. This complex of nutrients contains  a combination of Potassium chloride, Carnitine, Branched Chain Amino Acids, Niacin, and Biotin. We have made this formula available here in Australia.
This is available online once you have logged into the members section of our website
(3) The amino acid L-lysine has been found to inhibit the 5-alpha-reductase enzyme and requires a 700mg daily dose.
(4) The amino acid L-arginine helps increase nitric oxide production which is used by the hair follicle to maintain and promote new hair growth. It requires 900mg a day for this effect.
(5) Iron deficiencies may cause hair loss and if tested and found to be below optimal levels supplementation should be considered using a highly bioavailable form of iron such as iron picolinate.

Other Over The Counter Treatments
(1) Minoxidil/Azelaic Acid/Arginine Hair Lotion
This combination generates new hair growth by using a combination of drugs with complementary modes of action. Firstly, 5% Minoxidil appears to work by gradually enlarging and lengthening hair follicles that that have been gradually shrinking. Secondly 5% azelaic acid, a potent 5-alpha-reductase inhibitor, has been included to prevent the formation of DHT, which prevents further hair loss by addressing the cause of the problem. Finally, Arginine is also included which helps increase nitric oxide production which is used by the hair follicle to maintain and promote new hair growth.
This triple action is more effective than the single ingredient treatments currently on the market. The lotion (1ml) must be used morning and night for 2 to 4 months to see evidence of new growth and up to 6 months to get a proper estimate of weather it will work for you. It must be continually used to be effective. Once treatment has ended the hair will return to its original state in about 3 months.
This is available online once you have logged into the members section of our website
Prescription Range of Hair Loss Products
Our Laboratory produces a prescription range of hair lotions which can include Minoxidil, Retinoic acid, finasteride, progesterone and spironolactone. Note Spironolactone and Minoxidil should never be combined in the same lotion due to instability issues. Many compounders are not aware of this and continue to combine them for ineffective final products.
We also supply 10 and 15% Minoxidil Foaming Solution on prescription. This is propylene glycol free so suitable on sensitive skin.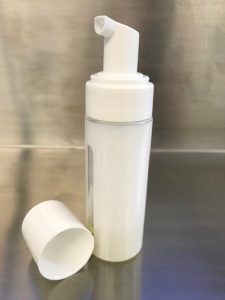 For more detailed information including prescribing information for your doctor on these prescription hair loss products you can contact us for details.
Other Medications Used for Hair Loss that are NOT Recommended:
Finasteride and Dutasteride Capsules – These drugs are potent pharmaceutical 5-alpha-reductase inhibitors which can be very effective however should be used with caution as they can also disrupt other hormones causing severe long term side effects such as erectile dysfunction, depression and fatigue. Although only a small percentage of users are effected in this way Post Finasteride/Dutasteride Syndrome can be serious and can continue long after therapy has been discontinued. We recommend if decide to use these treatments you monitor your testosterone, DHEA and cortisol levels regularly while on these drugs to ensure you do not suffer from their side effects. These side effects can be avoided if using them topically in hair lotions rather than systemically with oral administration this way you can concentrate their effects on the scalp rather than the whole body.
Bimatoprost – prescription required – Not recommended as studies show it is NOT effective. Studies performed by Allergan using  0.03% bimatroprost hair lotion found it was actually less effective than generic minoxidil solutions and not well tolerated so now they are trialing using 10 times this dose to see if it is effective at much higher doses.
Hair Nutrition
We have had many requests over the years to develop a formula that helps accelerate hair growth for women who do not have a hair loss issue but have decided to grow their hair longer and want it to grow faster. There are several products available overseas and upon researching them we decided we could formulate something far better and developed our own Hair Nutrition Formula. Results so far have been impressive with our test subjects all reporting back significant improvements in hair growth rates.
Want More Information?
For more in depth information on the treatment of this condition or to purchase any treatment listed you are required to log into the free members section. Click on either Existing members or Set up a new account to enter restricted area.
Copyright © 2001 Michael Serafin