Our Laboratory With State-Of-The-Art Quality Control
Complementary Compounding Services has a purpose built world class State-Of-The-Art multi-clean room compounding only facility. We have a separate clean room catering for Bio-identical Hormones and one for nutraceutical products both separated by an ante room/air lock. In addition there is an ante room and adjacent sterile room for the production of sterile dose forms. Each room is separated which ensures that no cross contamination of products occurs during the compounding process.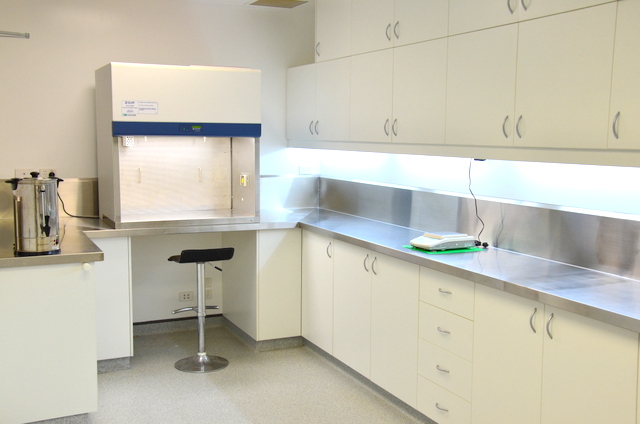 Click here for a Virtual Tour of our premesis.
In addition each of the clean rooms and sterile room are supplied by their own individual isolated ducted filtered air supply to avoid air contaminants from other rooms entering through recirculated air via a common air conditioning system.Each room is also maintained under positive pressure to avoid contaminants entering the room with the exception of the HRT Lab which is maintained under a negative pressure which prevents hormone dust from escaping from the room. Each room is constantly monitored and maintained at a constant pressure, temperature and humidity in order to maintain the maximum stability of all raw ingredients. We also have a partical counter which measures airborne particles which indicates our non-sterile clean rooms exceed the USP requirements in regards to particle counts for an ISO 7 sterile room during busy operation proving our compounding labs are exceptionally clean.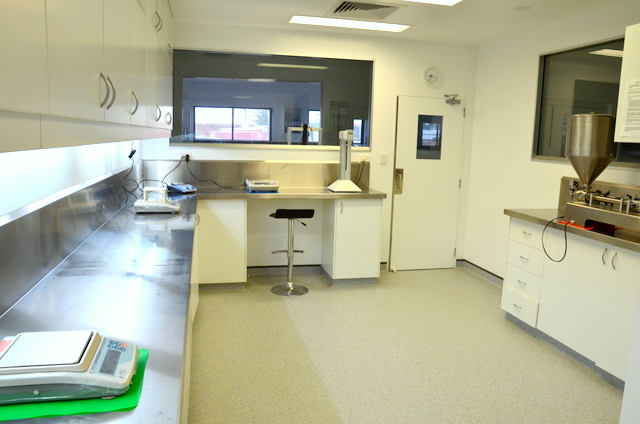 Our Clean rooms are built to the highest specification from stainless steel bench tops, epoxy coated walls, door seals, laboratory lighting, being air tight, etc, etc which complies with USP standards.
Our specialized compounding clean rooms are exceptionally clean environments with built in air filters removing particles of 5 microns or more. Staff entering these rooms must be appropriately gowned including face masks, gloves, shoe covers and hair nets. We also have a strict daily cleaning procedure to ensure it is maintained so.
Our clean rooms are each equipped with a NATA approved Gelaire isolation cabinet which contains a HEPTA filter for the removal of airborne particles down to 0.3 microns. This enables us to produce dust and particulate free capsules, creams and lozenges and also prevent cross contamination of powders.
For sterile compounding we have a sterile ISO Class 7 room with an adjacent ISO Class 8 ante room both equipped with air filters removing particle sizes of 0.2 microns or more. We have a GERMFREE ISO Class 5 sterile laminar flow Barrier Isolator for the production of sterile injections in the ISO 7 sterile  room which meets USP standards for sterile products. We are one of the most experienced sterile compounding pharmacies in Australia with Dr Serafin being involved in sterile work since the 1990′s.
By investing in a world class facility we are able to provide pharmaceutical quality products and hopefully dispel the stigma associated with some compounding pharmacies not being of sound quality. Click here for more information on our quality control.
Quality Control
We are a compounding only pharmacy which means we are compounding specialists. Our primary focus and goal is to provide pharmaceutical quality products in order to dispel the stigma held by some that compounded products are of inferior quality, which may be the case from some pharmacies but certainly not from us. This involved us investing in a world class, state of the art compounding only multi-clean room facility according to TGA standards in conjunction with tight quality control procedures.
Our laboratory will only use the purist pharmaceutical grade raw materials available. Most ingredients used in our laboratory are obtained from the same suppliers that supply the pharmaceutical industry and each ingredient obtained is accompanied with a certificate of analysis to prove that it was analysed prior to purchase and that its quality was found to comply with pharmaceutical grade standards. No raw ingredients are accepted by us unless its analysis shows it to be of pharmaceutical grade. All certificates of analysis are kept on record for future reference.
Our laboratory is equipped with several NATA approved computerized electronic analytical balances that are capable of measuring down to the nearest milligram. This ensures that all the raw ingredients used to make your medication are accurately weighed out. The weight of each ingredient used to produce your medication is then recorded for future reference.
Once accurately weighed all ingredients used to produce creams are then mixed using our pharmaceutical grade computerised cream homogeniser. This specialised mixer is used for the production of pharmaceutical grade creams with a consistent and uniform distribution of medication throughout the entire cream without any "empty spots" or "dense spots" that can occur with other types of mixers, or if mixed by hand.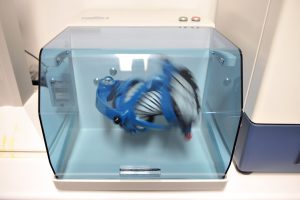 All accurately weighed powders used to make capsules are blended by our Multi-directional Turbula Mixer. This mixer utilises three dimensional reverse kinematics to blend any combination of powders, of various particle sizes, into a homogenous powdered mixture of uniform consistency. It combines turning, rocking and rolling motions to thoroughly and quickly mix the contents while avoiding gravity stratification of powders.  Its range of  motion is considered superior to rotation type V blenders. It also mixes without the generation of any heat thus protecting all ingredients for heat decomposition which is a major problem with blade type blenders. This type of mixer is currently considered one of the most effective mixers available by the pharmaceutical industry and is considered essential for accurately mixing powders especially those containing low doses of medication such as thyroid hormones.
Once all powders are mixed appropriately they are then encapsulated using one of our pharmaceutical grade capsule machines which are GMP, USP and BP compliant capable of filling powder weights within 1-3% variation. We have an automated electronic capsule counter to count capsules to ensure the number of capsules packaged is accurate.
Our laboratory is also equipped with a 4 stage reverse osmosis water purifier ensuring all preparations which contain water are contaminant free. We test the water regularly to ensure it meets pharmaceutical standards for pure water.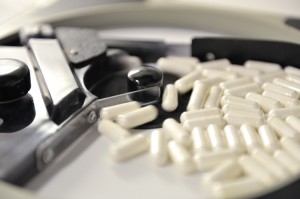 USP compliant Standard Operating Procedures (SOPs) have been developed for every aspect of preparing your medication. From how to effectively clean the glassware used during the production of your medication, lab cleaning schedules, gowning and personal hygene of lab staff, allowing new batches of raw ingredients to be used based on their certificate of analysis, checking our packaging to ensure it meets our high standards, etc, etc. This in combination with several checking procedures ensures every step in the production process is tightly controlled and monitored so there is little room for human error.
Our laboratory also uses specialised compounding software which was co-developed by Dr Michael Serafin in conjunction with a US based software company. This software allows us to delegate lot numbers to every item produced by our laboratory. These lot numbers are then matched to a unique production record for every product made in our laboratory so we can check (at any time) to see exactly what ingredients went into your medication and exactly how much of each ingredient (to the nearest milligram). The lot number of all raw ingredients used to make the final product and their used by dates are also recorded which enables us to double check their corresponding certificate of analysis and track batches of raw ingredients if need be for situations such as recalls. This record keeping process allows us to double check every product in order to ensure they all meet our high standards and to minimise any human error.
Finally the training and experience of the compounding pharmacist is also paramount to be able to competently supply pharmaceutical quality products. Our chief compounding pharmacist, Dr Michael Serafin, is a highly qualified compounding chemist with a Ph.D. in Pharmaceutical Chemistry from Sydney University. He has been involved with compounding since mid 1990's and previously having worked for Sydney University teaching compounding theory and practice to pharmacy students while being involved with pharmaceutical research and development. Being one of the most experienced compounding pharmacists in Australia his extensive experience and expertise ensures the highest quality of our formulas and products supplied by our laboratory.
Sample Analysis
Unfortunately many doctors still hold onto the stigma that compounded products are of lesser quality when compared to those provided by large pharmaceutical companies and cannot be trusted. Here at Complementary Compounding Services we adhere to many of the same standards as large pharmaceutical companies and can produce compounded products with the same degree of accuracy. To prove this fact we send off samples for independent testing to ensure our final products meet pharmaceutical standards. This product analysis is another quality control that allows us to monitor the raw ingredients we use, our weighing accuracy, our mixing techniques, etc and allows us to make any adjustments required to the compounding process or to our suppliers to ensure our products contain the stated amount of active ingredient. See results below for various dose forms as an example:
25mg DHEA Capsule Independant Analysis– this analysis shows our capsules have a 5.6% mean variation which is well within the 10% variation limit used by the pharmaceutical industry for many active ingredients in capsule form. Most doctors do not realize that capsules produced by large companies can vary in content by either 10% more or 10% less from the dose stated on the label. We work within exactly the same limits which are set by US and British Pharmacopoeia's.
20mg/ml Progesterone Cream Assay – this analysis shows our cream was tested and found to contain 19.4mg/ml which is only a 3% variation. Again this is well within the accepted 10% range set by US and British Pharmacopoeia's.
The use of sophisticated NATA approved compounding equipment in a clean, environment controlled laboratory by highly trained compounding pharmacists ensures the highest standards are maintained resulting with high quality products. By adhering to set protocols and many regulations you can be assured of the quality of medication produced by Complementary Compounding Services.
If you need the services of a compounding pharmacy you should ensure they are a compounding only pharmacy as this type has the most experience and expertise in compounding and generally have invested in the necessary laboratory, equipment and training required for quality compounding. Regular retail pharmacies who do compounding on the side are not equipped with the experience, expertise, laboratory set up or equipment necessary to produce quality products and thus fuel the stigma that compounded products are of inferior quality.