Autoimmune Diseases
The incidence of autoimmune disease is on the rise and currently there are over 150 diseases on the autoimmune spectrum.
What causes your immune system to suddenly go haywire and begin to attack its host? This is a question which has puzzled mainstream medicine for many years. A number of theories exist and the recommendations outlined below is a culmination of these theories.
Testing
There are a number of antibody tests available for specific autoimmune conditions from traditional pathology labs however to screen all the most common ones to help predict if your likely to develop any of these would be very expensive using these tests. A new Multiple Autoimmune Reactivity Screen is available in the US which screens for 24 of the most common autoimmune conditions however this test is not yet available in Australia. This would be ideal as these tests can predict particular conditions years before clinical diagnosis and also act to monitor the effectiveness of treatment indicated by a decline in antibody levels over time if successful. Unfortunately for now screening and thus predicting a wide range of autoimmune conditions without this test is very difficult and expensive.
Treatment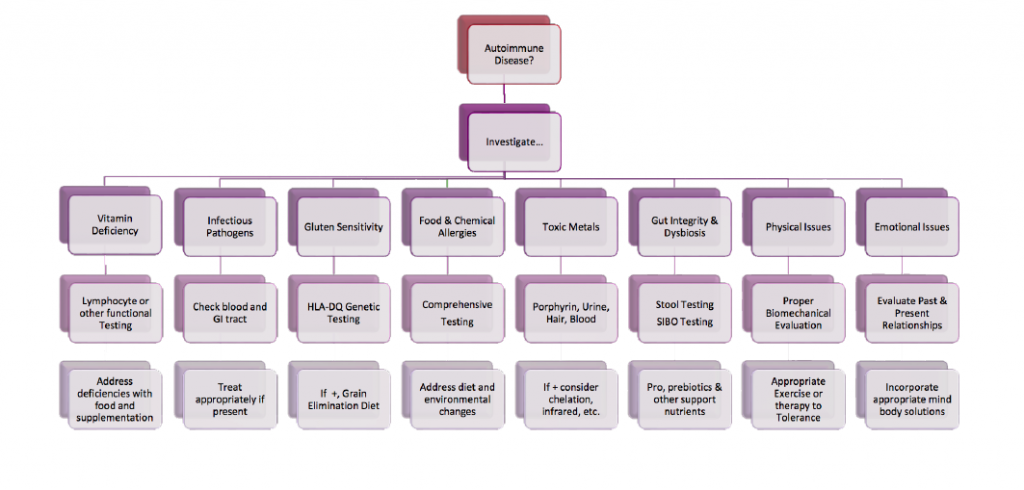 Things you can do to support yourself if you have an autoimmune condition include:
(1) Manage Inflammation
Ensure you have a anti-inflammatory healthy diet free of processed foods consuming mainly fresh vegetables and lean meats and avoiding inflammatory foods like sugar, refined carbohydrates, dairy and gluten. As a generalisation avoid gluten, dairy and yeast in your diet as these are reactive foods which can trigger inflammation and thus the autoimmune response in many patients. For a more targeted approach an ALCAT blood test is available that can help you accurately identify specific food intolerance's which if identified should then be eliminated from your diet. In our experience it is a lot more effective than elimination type diets. This test can cover up to 150 different foods so is very comprehensive. Each anti-inflammatory foods like green foods, nuts and seeds, sprouts, vegetables.

Test for heavy metal toxicities. If any heavy metals are identified then ensure you use the most appropriate chelating agent to effectively remove it from your system. This is important as heavy metals can trigger an autoimmune response through inflammation.

Use a natural anti-inflammatories such as Curcumin and Boswellia to control inflammation.
(2) Fix the GUT.
Leaky gut, SIBO, dysbiosis and/or gut pathogens are another underlying cause of autoimmune conditions. Inflammation could start in the gut which can increase gut permeability and thus allow larger partially digested proteins to absorb which can trigger autoimmune responses. Tests are available for leaky gut and we also recommend testing for intestinal parasites, candida, food allergies (ALCAT), dysbiosis, etc which can all cause inflammation of the gut wall lining. If any of these are detected then they need to be treated appropriately including restoring your gut microbiome. Peptides like BPC can help restore gut function and reduce gut inflammation.
(2) Treat Infections
Treat any underlying infections such as candida, Lyme Disease, various bacterial infections, Mycoplasma, various virus', etc which can also trigger an immune response. Sometimes treatment may include low dose antibiotics such as 200mg minocycline for 6-12 months to eradicate micoplasma, etc.

Use a anti-pathogen protocol using hydrogen peroxide and lugols to help kill off any infections
(3) Support the Immune System
Supplement with Glyconutrients or our Immune Boost Powder which can help re-regulate your overactive immune system.

Vitamin D is very important for regulating the immune system. Levels should be checked and maintained around 120nmol/L. Vit D supplements may be required to do so. Doses of 5000IU daily are required to maintain these levels.

Certain peptides like Thymosin Alpha 1 can help restore balance to your immune system.
(4) Hormones
Correct any hormone imbalances, especially adrenal and thyroid dysfunction, as a deficient endocrine system will cause an up regulation of the nervous system and this imbalance between the two can also contribute towards autoimmune conditions.
(5)Detox
As our world has become increasingly polluted a greater toxic load has been placed on our bodies. We are evermore exposed to toxic heavy metals, polycyclic aromatic hydrocarbons, voltile organic solvents, tobacco smoke, phalates, dioxin, drugs, PCB's, herbicides, pesticides, antibiotics, synthetic hormones and even endotoxins produced in our own bowels by unfriendly bacteria which can all contribute towards autoimmune disease. An effective detoxification process can help reduce the burden on your body and help overcome this condition.
(6) Additional Stratagies
Low Dose Naltrexone (LDN) – is recommended in moderate to severe cases. LDN has shown to reduce the autoimmune response and is currently being investigated for its benefits in a number of autoimmune conditions ranging from MS, arthritis, Hashimoto's, cancer, etc. It is not a well known treatment by mainstream medicine so may be difficult to obtain a prescription for. It is available from us with a valid doctors prescription. For more information available at:
Selenium high dose (300mcg) daily has been shown to help lower Thyroid peroxidase antibodies (TPO).

Replace any iodine deficiency once TPO has been reduced.
Contact Us
In order to obtain more information or alternatively to arrange a consultation you can contact us. You can also click here to find an integrative doctor open to prescribing these treatments.