Product Description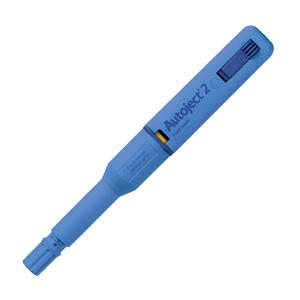 Autoject 2 has been specially designed for those who have difficulty injecting themselves manually with a syringe. At the touch of a button, Autoject 2 automatically inserts the needle and contents of the syringe into the skin without the user having to see the needle.
Autoject 2 features adjustable penetration depth, a safety lock to prevent accidental firing and a dose completion indicator.
The one-handed operation makes it possible to use a wider range of injection sites than manually injecting with only a syringe. Benefits include:
Raised trigger button for firing. Easy for both children and seniors to operate.
Window showing the injection is completed.
Safety interlock mechanism – prevents accidental firing until the device is pressed against the skin.
A choice of depth adjusters. Allows the use of a wide range of syringe brands and the ability to pre-set different penetration depths.
Simply fill your syringe with the appropriate dose and load it into the Autoject device. Set the depth. Place at the site of administration and click the button. The autopen will inject the needle for you and empty the contents of the syringe also. Then simply remove the device and discard the syringe. The device is reusable.